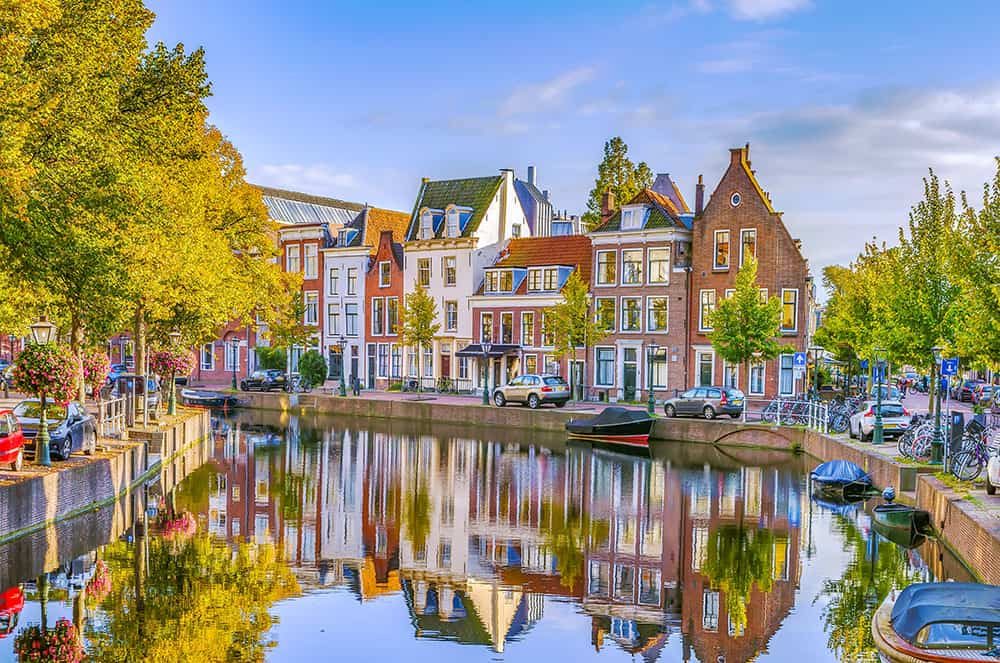 The obvious first. Amsterdam, the Netherlands' capital, attracts visitors with its charming canals, cobblestone squares, and diverse museums. One of Europe's hippest arts, culture, and subversive nightlife showcases. Cities with this much potential shouldn't be quiet, and Amsterdam's overtourism is a problem civic leaders are trying to address. Why exacerbate the problem this autumn? Take a train from Schiphol Airport to a city or town in the Netherlands few people visit. You'll also spend time away from crowded attractions and museums and contribute to the solution.
Leiden
A quiet landscape of canals, houseboats, and working flour mills draws many to the Netherlands, almost like an 18th-century watercolour. This gorgeous South Holland city's lack of visitors is the cherry on top. Rembrandt, who was born on the Rhine in 1606, is evident throughout. Visit Museum de Lakenhal, Leiden University (1575), and Hortus Botanicus, where Rembrandt dreamed of leaving for Amsterdam, after visiting the Young Rembrandt Studio. Naturally, you wouldn't do that today, so rent a bike to see the city like a local and stop at Café de Vergulde Kruik for a cold beer. The worn pub has a red star logo above the door and is full of nostalgia. You see it? Yes, you could. A large Amsterdam brewery licenced it as Heineken's logo.
Gouda
This handsome city is sacred if you believe the Dutch make the best cheese. What appears to be a 17th-century city hall with ceremonial crests and stone lions is Waag, a former cheese-weighing house turned national monument. The garden café at Museum Gouda serves cheesy afternoon tea, and Markt, the extraordinary square it overlooks, hosts a weekly mediaeval cheese auction. Consider windmills, canals, and a country drive through the Cheese Valley's back lanes, a patchwork of swollen farmlands rich in dairy history. Vegan? As a cheese-making town, Kamphuisen is home to the Netherlands' signature treat, the caramel stroopwafel, invented in 1810 at its syrup waffle factory and open for tours and tastings daily.
Leeuwarden
Leeuwarden, the capital of Friesland, is far north from Amsterdam and Rotterdam, and locals speak a different language. Even the Dutch are surprised by the differences. Start with stories about Grote Kerkstraat-born mind-bender MC Escher, then admire De Oldehove, the town's half-finished tower that tilts more than Pisa's. A bike tour of the city reveals the fascinating Fries Museum on Wilhelminaplein, 600 monuments, Friesian horse fields, and the barmy Blokhuispoort, a renovated prison with a cultural centre, restaurant, library, and café (don't be put off by the barred-up windows). Last stop: Franeker and the Royal Eise Eisinga Planetarium, home to the world's oldest working solar system model. Odd, especially hanging from a dull canal house's living room roof.
Hague
The rush between Amsterdam and Rotterdam skips the beautiful Dutch parliament, which is rarely visited by tourists. The Hague is a pleasure to explore and home to one of Europe's best art galleries, the Mauritshuis. Visit Vermeer's Girl With a Pearl Earring, but also explore Rembrandt, Rubens, Steen, and Brueghel's masterpieces. Embassies and Dutch top brass network here, so there are many great restaurants. Zeeland oysters, salty vegetables, quail, and fish are served at Restaurant Oogst. No one comes to the Netherlands for food, but they do. Architecture is equally striking, from the Binnenhof to the Peace Palace to the Het Paleis, where MC Escher's tessellated geometry will blow your mind.